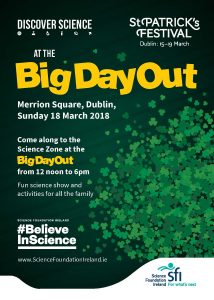 This St Patrick's Day weekend will see Merrion Square turned into a street carnival aka The Big Day Out. There are lots of things from street theatre, music, aerial performances, workshops, art installations, Irish Language activities, Science Zone and of course a festival Céilí.
We will be taking our place in the SFI Science Zone. A area of the festival dedicated to all things science. There will be live shows, demos from mgen Biotech, APC Micro biome Institute, National Aquarium, Physics Busking, and ourselves.
We will have a range of demos, projects and a new custom LED sign for the weekend that is in it.
The event takes place this Sunday 18 of March from noon. till 6pm
See Big Day Out full Schedule here.