At Tog Hackerspace, community lies at the core of everything we do. We take immense pride in being a volunteer-driven organisation, where every member plays a pivotal role in shaping our welcoming and innovative environment. In this spirit of community and collaboration, we are thrilled to introduce Togtober – a month dedicated to enhancing our space for the benefit of all.
Our Volunteer-Powered Community
Tog Hackerspace stands out as a truly exceptional place because we have no paid staff or roles. Our community thrives on the dedication and passion of our members who generously contribute their time, skills, and enthusiasm to create a warm and inviting atmosphere. It is this spirit of volunteerism that sets us apart and makes our space genuinely special.
Member-Hosted Group Nights
One of the defining characteristics of our community is our member-hosted group nights. These events offer a platform for members to share their knowledge, collaborate on projects, and nurture a sense of togetherness. Our volunteer hosts go the extra mile to ensure that everyone feels welcome and inspired.
DIY Space Improvements
In the spirit of continuous improvement, Tog Hackerspace has always depended on the hard work and dedication of our members and friends for all our space enhancement projects. We believe that the best way to make our space even better is to do it ourselves, and that is precisely what we have been doing.
Introducing Togtober: A Month of Improvement
This October, we are excited to kick off Togtober – a month dedicated to making Tog Hackerspace an even more vibrant and functional place for our community. Throughout October, every weekend will be dedicated to various space improvement projects. From upgrading equipment to enhancing the layout, we have a range of exciting initiatives in store.
How You Can Get Involved
Togtober wouldn't be possible without the support of our incredible community. We invite you to join us in making a difference this October. Here's how you can get involved:
Volunteer Your Time: If you have skills, time, or energy to spare, we welcome your contributions. Whether you're a seasoned DIY enthusiast or a newbie eager to learn, there's a place for you at Tog Hackerspace.
Donate Materials: Do you have spare materials or tools lying around that could benefit our projects? We're always in need of resources to bring our ideas to life.
Share Your Ideas: Have a vision for how we can improve our space? We're open to new ideas and fresh perspectives. Share your thoughts with us, and let's brainstorm together.
Join the Togtober Movement
This Togtober, let's come together as a community to create positive change. We're excited to see what we can achieve when we pool our skills and resources. Whether you're a long-time member or someone looking to get involved for the first time, your contribution matters.
Get in touch with us to find out more about our Togtober projects and how you can participate. Let's make this Togtober a month of growth, connection, and shared accomplishments. Together, we can continue to build a space that reflects the passion and dedication of our incredible Tog Hackerspace community.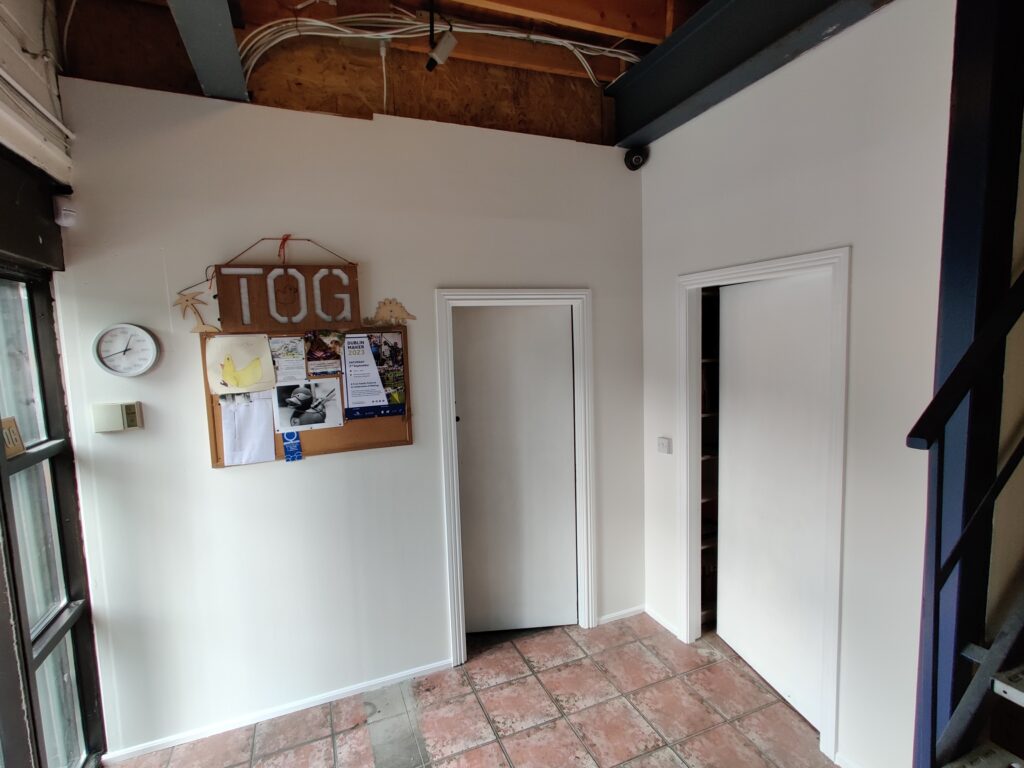 To kick things off, we have repainted our entrance way into the space.