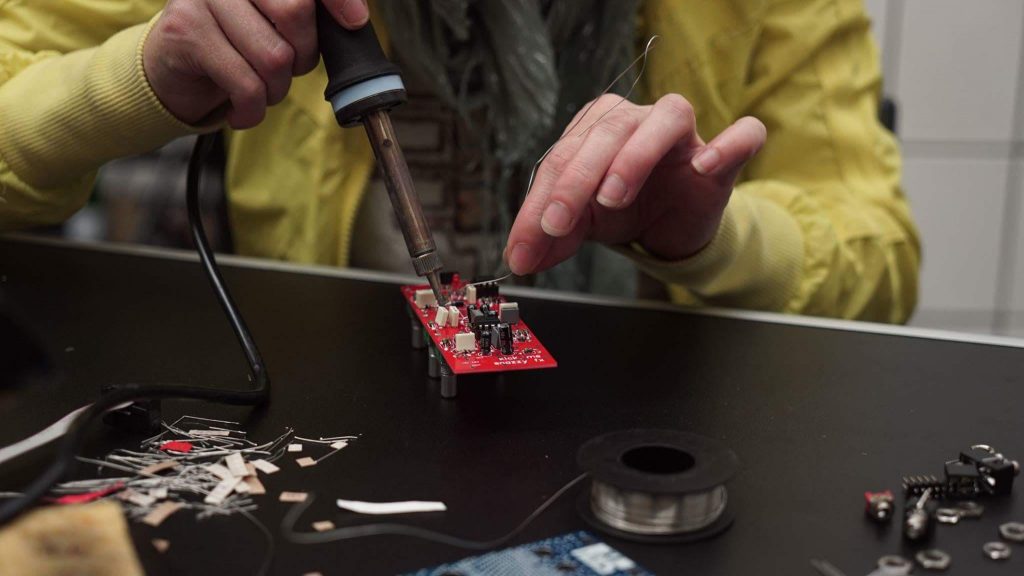 For those of you exploring the wonderful world of Modular Synthesizers and have built or would like to build some modules to add to their system, this is the workshop for you. My name is Robin Burke and I'm part of the Berlin Modular collective that runs regular DIY workshops in Berlin. I thought "If I'm visiting home, let me bring synth gifts for my yet undiscovered modular family" 😉
If you have a lot of experience, I can bring some more advanced modules and for those of you who are dipping your toes in for the first time, there are plenty of "absolute" beginner modules like Passive Multiples for instance.
I'll bring a range of kits that will (with the help of time, parts, solder & electricity) turn into modules from the following international manufactures:
Serge by Random Source; Bastl Instruments of Czechia; Snazzy FX from NYC and maybe even 2 kits from a local manufacturer here in Berlin called GHz Labs.
I'll limit the number of places to 15 because of space and not being able to fly the entire Berlin Modular team over (but maybe next time 😉
The kits in principal should be built at the workshop but of course can be finished at home if you need to leave early (2hr minimum stay). The whole point is to create or strenghten a community where, amongst other things: we learn from each other; share simply let very useful tips and tools; meet people whom we may not meet otherwise and ya, have fun.
I'll bring a system with me so modules can be fully tested and debugged if needed. There's often a capacitor or diode put in the wrong way around but thankfully it's often an easy fix.
So whether you're an absolute beginner or a high priest of the soldering iron, you're very welcome to the TOG where all the necessary tools like soldering irons with solder, braid, solder sucker for removal & wire cutters will be provided to complete a kit. Of course, feel free to bring your own irons, air extractors, solder, holders and stands with a magnifying glass, etc.
And after the workshop, we can relax to the music and sounds of a modular system or two played by myself and guests and chit chat for a while. Community is king 🙂
The workshop takes place on Saturday 30th of September from 11:00 to 16:00. The price of the workshop will depend on the cost of the kit selected. A full list of kits available is listed below.
All parts, tools and instructions will be provided. Places limited to 15 participants. Note all participants must be 18 or over.
To book a place email Robin at robinburke_ie@yahoo.com
Bio
Robin Burke is a musician and electronics dabbler, has been living in Berlin since 2007 and is the type of guy who likes to help out, meet people, get involved and involve others. He's a teacher of English but is most certainly a life long avid learner of too many subjects to mention but most definitely, never short of an opinion and time for listening and learning from others.
Kits Available
Bastl Instruments Eurorack DIY Kits
ABC – €84

CINNAMON

– €

110
CLUTCH

– €

78
CV TRINITY EXPANDER

– €

44
GRANDPA

– €

170
JUICEBUS BOARD

– €

37
JUICEBUS DIY Kit

– €

26.50
KNITRIDER EXPANDER

– €

41
LITTLE NERD

– €

126
MULTIPLE

– €

25
NOISE SQUARE

– €

92
PROPUST

– €

44.50
QUATTRO FIGARO

– €

180
SKIS

– €

92
SOLENOID EXPANDER

– €

44
SPA (GRANDPA EXPANDER)

– €

84
TEA KICK

– €

92
TROMSØ

– €

110
Dual Multiplier module – €110

Kick me module – €110
itty Eyes chaos module – €100
Eternal Spring Filter – €120
Landscpe AllFlesh DIY Kit – €30