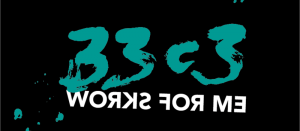 Some of us have travel across the seas to visit the 33rd annual Chaos Communication Congress (33C3). It's a four days of total hacker fun. Filled with talks, workshops and many a good time.
If you are at Congress be sure to drop by the Irish Embassy and Tog Assembly. If you can't make it along in person you can watch it all live streamed over the internet. -> https://streaming.media.ccc.de/33c3
Check out the sign Tdr made for the occasion. 3 sheets of 3mm plywood glued together. For photos of the build check out our gallery.