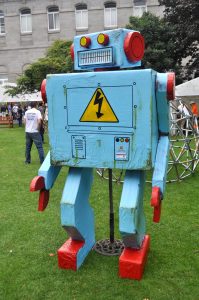 Dublin Maker is Ireland's biggest maker community showcase event. It gives a real opportunity for makers to excite and enthuse the general public about
the great making communities and their projects. This year it moves to Merrion Square to allow for even more making madness
The open call for this year's Dublin Maker is now open to all inventors, makers, hackers and creators. Whether you have taken part before or still tinkering on something crafty, you can apply for a place at our biggest Dublin Maker yet.
Tog is proud to be a supporting organisations again this year.  We have been involved in the running of the Dublin Maker since its first year, now almost 5 years ago. We see the event as the highlight of the maker calendar in Ireland.