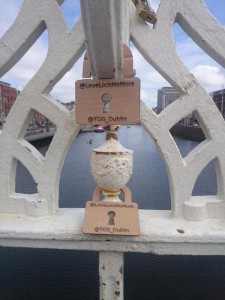 Our Locking picking group are always busy saving the Ha'penny Bridge one lock at a time. By teaming up with DCC Beta, they are not only been helping to save the bridge but also to reduce the cost of removing the locks. One of the problems our LoveLockNoMore team face, is when people return to find their lock  gone. They are left in a state wondering will their love disappear just like their lock.
We have come with the solution of leaving a calling card any time we remove locks. We hope people will find our twitter account and get in touch if they would like their lock back.
As we are a maker space too, we decided to make the calling cards ourselves. After a quick prototype drawn in Inkscape, we went to our Lasersaur to make it. Some photos of the build.