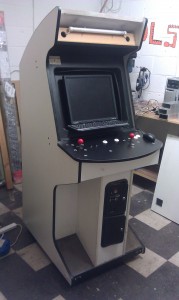 Ever wonder what goes into making a computer game? Well, we have a night of talks to suit you! Computer Games Development Night will feature a variety of talks from professionals in the computer games industry, covering topics like development processes and behing-the-scenes tools that make your games enjoyable.
And for some variety we'll have a few short talks about projects people are working on, a sort of show-and-tell.
Date: Thursday, 10th of January
Time: Open from 18.30, Talks begin 19.15
Location: TOG
Cost: Free
No Signup required.


Details of talks to-be-added as we get them.
Talk #1
Title: Meme Pie
Description: Who are all your base belong to? Which places have Mordor-like restrictions on entry by foot? Have we been lied to about more things than just cake?
In this short talk I'll go through the development of Meme Pie, an XKCD-inspired project that combines the Twitter Search API and Google Charts to answer these important questions.
Speaker: Becky (http://eirebecky.wordpress.com/)
Talk #2
Title: Workers Unite! Massively Concurrent Asynchronous Task Processing
Description: How do you go about servicing concurrent requests for millions of users while also interacting with external third party services (e.g. Social media sites) in a robust and timely fashion? This talk will cover how DemonWare make use of RabbitMQ (for robust queueing) and Eventlets (for massive concurrency) to solve this problem for millions of gamers every day.
Speaker: John Hamill is a software engineer at DemonWare who provide software and services for all Activision's online titles, including the "Call of Duty" and "Skylanders" franchises.
Talk #3
Title: The nonsensical raving of an internet loudmouth – or How I learned to stop worrying and love games production.
Description: The talk will be about: Games production!
What do games projects consist of. Whats the role of a producer in all of this. What handy tips can be gleamed from my experience.
Speaker: JP, former Producer with Popcap Games, Dublin. Have worked on titles like Plants vs Zombies, Peggle, Bejeweled etc. (http://www.linkedin.com/in/jpvaughan)
Short break
Talk #4
Title: Are Video Games the perfect story telling tool?
Description: A brief look into why this video game fan believes that games are one of the best story telling mediums that exist today. How video games make you laugh, make you cry and attach you to characters that will stay with you forever and why I believe this story telling medium is one of the most influential of its time.
Speaker: Sophie (glitternotgold.wordpress.com)
Talk #5
Description: A small introduction to content building on games, specifically using the the XNA content pipeline.
Speaker: Andrea (Batcatgames.com / Roundcrisis.com)
Talk #6
Title: IAmA GAME Researcher at Science Gallery
Description: Come into my world of gamers, geeks, filled with indies to games industries juicy world of gossip, and moments of lost time as I lose myself in the world full of fantasy and technology. It's not what you think your average day at work would be, but that's part of my working day as well as meetings and long distance skype conferences.
Slides: https://speakerdeck.com/whykay/iama-game-researcher-at-science-gallery
Speaker: Vicky Twomey-Lee (http://irishbornchinese.com / http://python.ie / http://dublingamecraft.com)