During Maker Faire New York, Jeffrey and Robert were offered the opportunity to review the new official Arduino Starter Kit. We've had the kit now for over a month now and finally got a chance to properly review it.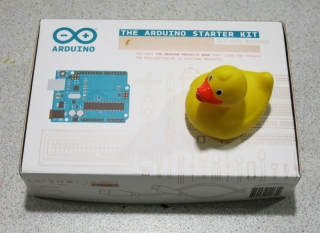 The first thing you notice is that the retail packaging is beautiful. A simple cardboard box with elegant pictures of an Arduino and the kit's components on the outside. Then on the inside the components are grouped into their own smaller gold coloured cardboard boxes.
Just inside the box is the main feature of the kit, The Arduino Project Book. This very detailed book introduces the Arduino platform using the contents of the kit. Through the chapter text, the use of many illustrations and unique side-by-side detailed description of the code, the reader learns the Arduino platform, basic electronics and basic programming.
As a high-end kit the components included are above and beyond what you find in a regular kit. So not only do you get the regular Arduino Uno, breadboard, resistors, jumper wires and LEDs, but the kit includes more advanced parts like a servo motor, a motor driver and an alphanumeric LCD display. Each of these components is introduced and code to use them is given in the book.
A very useful complement to the book is the series of Radionics-sponsored video tutorials by Massimo Banzi, co-founder of Arduino. These videos show the more tactile problems which are impossible to describe concisely in a book.
This kit raises the bar, for what's included in the box and additional online resources. While the cost seems initially high, everything you need is included and takes you further than competing kits.
We'd highly recommend this kit.
The Arduino Starter Kit is available directly from Radionics.