Robert and Jeffrey will be leading two workshops in RUA RED as part of the Glitch festival. Glitch  runs from the 11th May until the 16th June. It hosts artists who utilise both virtual and real spaces to create their work with a a focus on Collective Intelligence , Immersive Technology and  Open Source Technology.
Workshop 1 Soldering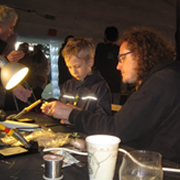 This fun and hands on workshop will show you how to get started creating your own electronic creations. The workshop covers the basic techniques of soldering and how to make simple circuits. Participants will finish the workshop with a kit they can bring home.
Dates: Saturday 2nd June – 11am – 12.30pm & 1pm – 2.30pm
Cost: €5
Booking: http://ruared.ie/Soldering.html
Workshop 2 Arduino
Do you want to make things blink? Build interactive art? Construct robots to take over the world? Then Arduino is for you.
You don't need to be a programmer or an electronics engineer just have an open mind.
You will start off using LED's and LDR to make light bar graphs.
This workshop will give you the spring into the world of Arduino.
Dates: Saturday 9th June – 12pm – 3pm
Cost: €5
Booking: http://ruared.ie/Arduino.html