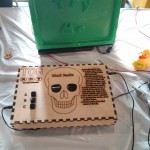 This blog post is written by our member Jeffrey Roe about his Skull Radio Box Project.
The Skull Radio Box came out of the frustration demonstrating the bone conduction kits at the Big Day Out. The kits are great for workshops but in a show and tell type of stand they just are not user friendly. They need an audio source hooked into them and just not appealing to members of the public to bite on a metal rod with lots of wires hanging out of it.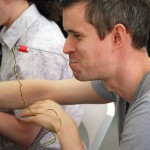 I first found out about bone conduction from David McKeown at Artek Circle (Photographed right) and tried it out with a spoon in my mouth.  Months later, I then worked with Sinead Mc Donald to create the Guzman Box. Internally, it used a Kitronik amplifier kit to create the bone conduction effect. During its stay in the Lexicon Library for Soundings, the TBA820M IC burned out twice. The main cause was due to heat. The IC had no heatsync and would burn if left on for too long.  Jump forward a few months, I used bone conduction again during Spectral Forms a week long residence in the Science Gallery. We looked for a fun way to play back the audio of people's brain waves, that we were capturing with an EEG unit. We again faced problems with the kits being too quiet for the loud gallery setting. Finally, we used them as a demo at the Big Day Out, people loved the demo but not the look of the device. All these led to creating a stand alone, demo dubbed the Skull Radio Box.
The Build


The case was the first part of the project.  I started out with Maker case website to create the general box. I then moved into Inkscape to do all the other parts of the design. After a few prototypes in cardboard, I was ready to cut out the final box in  5mm plywood. As the project came out of the laser cutter it looked perfect but when putting together the box with the finger joints, it was clear it did not fit together. Two hours later, using a file,  sand paper and just a little hot glue, the box was all together.