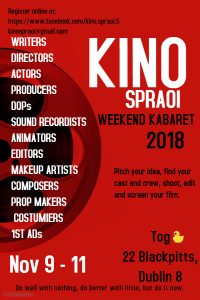 Have you got a script burning in the back of your head? A keen eye for the scene, aye? Want to try some cheesy acting? Or want to make some slaptastic special FX with goos and glues and gos-knows-what?
Well you're in luck, because
Filmmaking hackathon in TOG, 9-11th November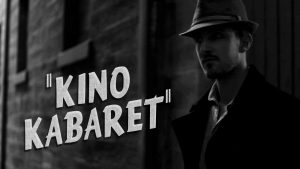 Join us for our first Weekend Kino Kabaret.
If you have and interest in film-making or are a writer, director, actor, producer, DOP, sound recordist, animator, editor, makeup artist, SFX artist, composer, prop maker, costumier, 1st AD or would just like to get involved then this is the event for you.
Over three days you will have the opportunity to join a team or pitch your film, shoot it, edit it and screen it.
We will start @ 9am on Friday 9th — after introductions you can pitch your great idea or join up for someone elses.
Then its straight into planning and filming!
There will be some basic workshops on Friday morning for 'how to film and edit on your smartphone' if you want a quick introduction.
On Saturday at 7pm we will have a screening of 'Patricks Day' followed by a Q&A session with director Terry McMahon.
Then on Sunday @ 7pm we will screen the great films our participants made.
Excited already!
We will also fire up Tog's famous pizza oven for some yummy goodness in the evening.
Not to be missed!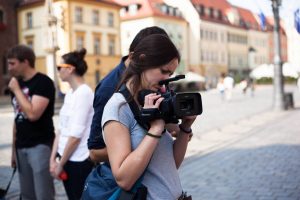 The cost of a ticket for the weekend is €20.
Places are limited and you must register to attend. See you all there. 🙂
Email: kinospraoi@gmail.com for more!