At the October 2018 Social night on Saturday 20th October 2018 from 7pm we will have a normal open social night where anyone can drop by and we will have a theme of Electric Vehicles. We plan on having a few Electric Vehicle owners attend, and you can have a look around the cars, along with seeing them charge at TOG's own electric vehicle charge point. If you are interested in Electric Vehicles or own one, this will give a non formal chance to chat to owners along with getting a tour of the TOG hackerspace, and seeing all TOG has to offer including laser cutters, 3D printers, a full workshop and more. The event and all social nights are free of charge so drop by.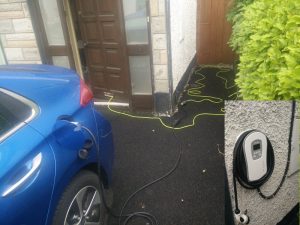 Doors open at 7pm and the plan is to have a quick introduction to Electric Vehicles around 7:30. As we are a hackerspace we will also mention digging under the bonnet of electric vehicles and modification. The space will be open until after 11pm and it is a bring your own beer (BYOB) or soft drinks social night, but not if driving. There is limited free parking on site, and street parking in the area is free on a Saturday evening, although we encourage people to arrive car free or share lifts where possible.  TOG is located in Dublin City Centre here:
For those with Electric Vehicles we have a type 2 tethered charger and a 3 pin household style outdoor socket, but charging will be only for those that really need it.
For more information about TOG and future events see:
https://www.tog.ie and check out the events calendar and other blog posts. We also have all the usual
Twitter Facebook and other social media
If you have specific questions you can contact us through the website, but feel free to just drop by at one of our themed open nights.