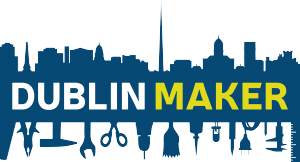 The Open Call for Dublin Maker 2018 projects now has gone live. You have probably noticed celebrations in your local villages and parishes to mark this event or perhaps spotted one of the numerous and bankrupting sky writing campaigns we have commissioned to display the Dublin Maker Logo above the city.
In any case, what we want to know is do you have cool stuff? and do want to show if off to 10,000 people? This is your chance. We are looking for all sorts of makers, tinkerers, artists, inventors, hackers and do-it-yourselfers.
Whether you have taken part before or still tinkering on something crafty, we'd love for you to apply for a place at our biggest Dublin Maker yet. Take the opportunity to glimpse into the future, get hands-on and join the Maker Revolution. There's nothing else like it. Remember, your project doesn't need to be finished, and it definitely doesn't need to be for sale. We want you to share how you make, so in-progress, hobbyist projects are A-OK!
Go on, throw in a project! The Open Call closes 28th of May.
http://www.dublinmaker.ie/open-call/
We are very proud to be a supporting organisation for such a great event. We hope to see you all their with our new creations for 2018.