TOG members and Capital Brewers return to TOG HQ this coming Saturday (4th February). Hearty brews are on the menu, in both brewing with guidance and instructions from the experts, and tasting craft beer made at previous brew days!
A very rough time-line of a brew day is as follows (a little earlier than usual to be finished before AGM):
9:00am – 11pm: Heating water, water treatment and mashing grain
11pm – 1pm: Boiling & beer tasting from previous brews and visitors beers
1pm – 3pm: Cooling and clean up
Every brew day is slightly different with a mix of brewers, recipes and techniques.  The long term goal would be to get a full set of brewing equipment that TOG members can use themselves at the space and make your own beer, cider or wine whenever you like! All you need are the ingredients. We are already well on our way to achieving that goal with several sets of equipment for members to choose from.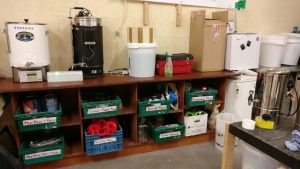 Its always a fun and engaging day, the cost is free (donations are welcome) so come along, ask questions and even help with the brewing!