Just completed our first triple brew day in TOG with 3 members making 75 liters of Stout, Brown Porter and American Pale ale.  Colm Gorey from Silicon Republic also dropped in to ask us a few questions about how to get started with brewing as part of his Tech Tips series.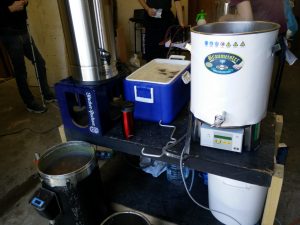 The beers were brewed on 3 very different types of equipment. the stout was brewed with the traditional mash tun and kettle combination. The mash tun is made from a large cooler box and the kettle is a very large boiler that is normally used for keeping water hot. The brown porter was brewed using a Braumeister, it is an automated brewing system that has the mashtun built into the kettle. The American pale ale was brewed on a semi automated brewing system called the Grainfather, it operates in a similar fashion to the Braumeister as it also integrates the mash tun and kettle together.
All of this equipment and ingredients is permanently located in the TOG space and is available for all full members to use anytime.