TOG members and Capital Brewers will brew in the new TOG HQ this coming Saturday. Hearty brews are on the menu, in both brewing with guidance and instructions from the experts, and tasting craft beer made earlier!
A very rough time-line of a brew day is as follows:
10am – 12pm: Heating water, water treatment and mashing grain
12pm – 2pm: Boiling & beer tasting from previous brews and visitors beers
2pm – 4pm: Cooling and clean up
Every brew day is slightly different with a mix of brewers, recipes and techniques. This weekend Fergal will be brewing a session IPA, similar to the "Via Maris" beer from Galway bay brewery.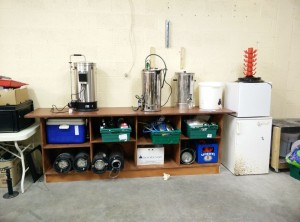 Over the past few months we have been building up the core set of brewing equipment in TOG to reach our goal of getting a full set of brewing equipment in TOG. This would allow TOG members to brew themselves at the space and make your own beer, cider or wine whenever you like! All you need are the ingredients. This event that usually happens every second month so if you can't make this brew day there will always be another opportunity.
Its always a fun and engaging day, the cost is free (donations are welcome) so come along, ask questions and even help with the brewing!
Capital brewers discussion is here, and pictures of our previous brew days can be found here.
Video from one of the brewdays last year in the old TOG space:
Edit, here are a few photos from the day: