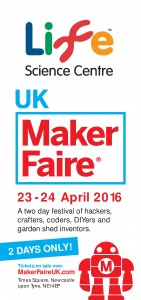 We are delighted to have been accepted to showcase our projects at Maker Faire UK. Being the largest Maker Faire in the UK, its a huge gathering of all sorts of makers. We always have a great time talking to the public and seeing our fellow hackerspaces.
This will be our 4th year showing casing at the event.  Last year we were trilled to find other Irish makers also there (Mint Tek). We hope this year will be no different.
This year we will be showing a range of wearables and a arduino powered panel clock. We are super proud that our project from last year is now featured on the Maker Faire UK home page. Can you tell which one it is ?