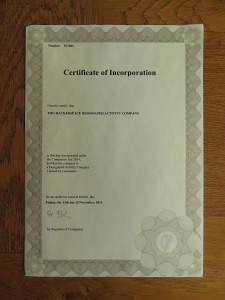 Lots of things are changing with Tog not just our address. We are changing our internal structure to help the group grow. We have formed a Designated Activity Company or DAC for short. A DAC is a new company structure created by the Companies Act 2014. We will have to reaffirm a set of goals that we will have to strive to implement.
The objects for which the company is established are the promotion of innovation in science, technology, modern culture, and creative arts and the doing of all such other things as are incidental or conductive to the attainment of the above objective.
We will be publishing the new constitution and most details in the coming weeks. In the mean time we will be have a Social Meetup to celebrate. There will be cake.
Thursday 26th November, 19.30, Upstairs,  Longstone, 11 Townsend St, Dublin 2, D02 FE00