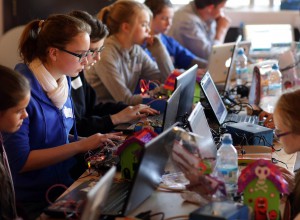 Inspirefest is a two day technology conference taking place on 18th-19th of June in the Bord Gáis Energy Theatre. The conference has a strong focus on STEM and diversity. To go along with the conference, there is a host of fringe events taking place in Merrion Square. We are proud to be taking part in the Family Fringe event on 20th of June.
We have joined forces with Intel and Girls Hack Ireland to create Stop the Lights workshop. The workshop will give insights into the basics of using the Intel Galileo, an Arduino-compatible designed right here in Ireland. Participant's will get their hands on LED's, buttons and buzzers, to create a traffic light animation.
The workshop is open to all aged between 15 and 17 and is most suitable for participants who have some prior coding experience. Participants are not required to bring their own laptop or materials
Date: Saturday June 20th
Time: 10am
Location: Merrion Square, Dublin 2
Duration: 3 hours
Places available: 20.
Tickets: Free, but prebook.
Apart from our workshop we are also teaming up with Dublin Maker to give people a little taster session ahead of their July event. Dublin Maker is a family friendly showcase of invention, creativity and resourcefulness, and a celebration of the maker movement. The taster session will also feature the Year of Light makers. 
We will be showing off projects created by our members. They will include the Egg Bot – draw your own images onto eggs, Skull Radio – listen to music without using your ears, Buzzer Game – classic game of keeping a steady hand and Constellation Quilt – stars, electronics both met on a quilt. 
The UN has declared 2015 the International Year of Light to highlight the central role of light has in the modern world from science and technology to nature and culture. The Year of Light makers will demonstrate how light is used in our everyday lives though lots of hands on experiments from making UV bracelets, lenses out of Jelly and LED badges. There will also be some optical illusions to show the different ways in which light works.