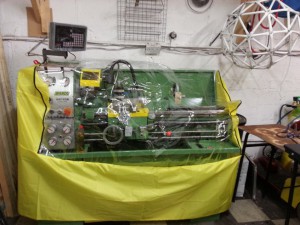 A few of TOG's members got together and put a metal lathe in the workshop. The workshop is the most appropriate place for it, but also the place it's most likely to gather dust (from other people's projects, the lathe will get plenty of use). So the first project for the lathe was to build it a cover.

We made use of some of Cheryl's leftover vinyl from another project, so that visitors could ooooh and ahhhh at the lathe beneath the cover (ooooh, we should join this hackerspace with its cool tools). The sides and skirt were made from leftover skin from TOGduck. The first side seam was done inside out, so rather than redoing it, we decided to trim it in black bias binding for that super cool industrial look. There's a velcro loop that hooks around the display to stop the cover slipping off at that side. A corner built into the cover keeps it from slipping from the other side. It's not very long at the back as the rear of the lathe is pretty much a flat panel, so that's not going to get gummed up with dust.
Myself and Becky were very pleased with how this turned out. We learned that machine sewing vinyl is hard. The vinyl sticks to the presser foot so we had to turn it over, but it also isn't gripped by the feed dogs. We had to resort to a guide/pull team effort, with me guiding the material through the machine, and Becky pulling the fabric gently through from behind the machine. Remarkably, we didn't bend the sewing machine needle, but we're not about to test our vinyl skills again soon 🙂
Oh, and as well as a lathe cover, TOG got a metal lathe recently 🙂 Keep an eye out to see what we get up to with it.