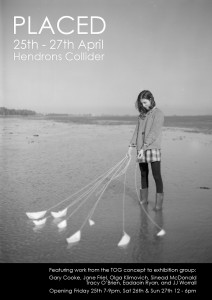 Placed presents work from members of the TOG Dublin Hackerspace photography group. Led by visual artist Sinead McDonald, the course offers an opportunity for creative members of the public to engage with each other on a critical level over the course of 10 weeks, working through concepts and methodology, editing down images, post production, printing / framing / installation-based techniques etc, and culminating in a city centre gallery exhibition.
Placed will open on Friday 25th of April, 7-9pm at Hendrons Collider (see map), and will run Sat 26th and Sun 27th 12-6pm
Featuring work from the TOG photography concept to exhibition group:
Gary Cooke, Jane Friel, Olga Klimovich, Sinead McDonald, Tracy O'Brien, Eadaoin Ryan and JJ Worrall.
Google Map to the Gallery: http://bit.ly/1fgfk4d
Gallery Website: http://hendronscollider.com/