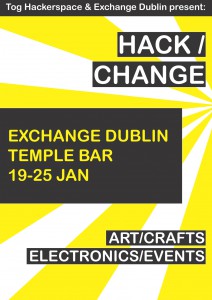 TOG's tornado tour continues, this time into Exchange Dublin, a multipurpose culture space in Temple Bar.
The week long exhibition in Exchange brings hacker culture to the people of Dublin, with a variety of crazy contraptions made by the mad members of TOG.
There will be adhoc hack/changes made throughout the week, culminating in a big data visualisation event 8pm on Friday 24th  – wrapping up in time for Tog's 5th birthday party on Saturday 25th.
So take a stroll through Temple Bar this week and serve yourself a little slice of hacker heaven!
Date: 19th – 25th January
Where: Exchange Dublin
Tickets: No booking required, free entry.