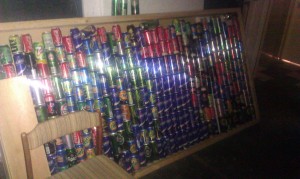 Following the social on 2nd July, we now have enough cans to fill our
solar heater. We cut the top and bottom from each can. A regular can opener
removes the top very neatly. We remove the bottoms with a hole saw.
We built the frame from a sheet of plywood, and laid some 25mm
polystyrene sheets into the frame as insulation. We now arrange the cans
in parallel columns and paint them black to absorb the sun better. The
top and bottom of each "can column" is arranged into a common manifold. We
glaze the completed unit with glass or plastic.
We blow air from our building in the bottom and take warmed air out the
top back to the building. We use a small electric fan to do this.