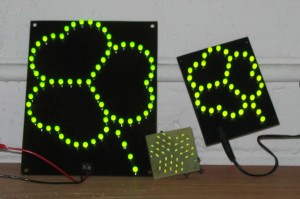 In this Paddy's Day themed workshop participants will be shown the steps involved in etching a PCB, basic surface mount soldering and will have a choice of Shamrock kits to assemble.
40 LED Shamrock – €12 Members, €14 Student/Unwaged, €16 General Public
68 LED Shamrock – €24 Members, €28 Student/Unwaged, €32 General Public
LED Shamrock Badge – €14 Members, €17 Student/Unwaged, €20 General Public
Most of these kits involved only basic surface mount soldering techniques, which even beginners should be able to handle. Additional kits from previous workshops will also be available.