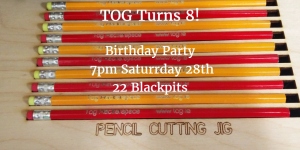 With less than a week to go, TOG is holding a competition to celebrate our 8th Birthday Party. The party is taking place after 7pm on Saturday, 28th January in our space, 22 Blackpits. You can find the details on our meetup page.
About Us
TOG is a hackerspace based in the centre of Dublin. It is a shared space where members have a place to be creative and work on their projects in an environment that is both inspiring and supportive of both new and old technologies. In the past 8 years we have worked on everything from giant LEDs to Raspberry Pis, we have made a twitter knitter and a pizza oven.
Contest!
The prizes are a personalized laser cut pencil and a surprise from our 3D printer. Entering is really easy. Simply Retweet this tweet or Share this Facebook post. 5 winners will be pseudorandomly picked from Twitter and 5 from Facebook, on Saturday the 28th, prizes can be picked up in the space.
Update:   To enter the Facebook competition you will also need to leave a comment on the post.