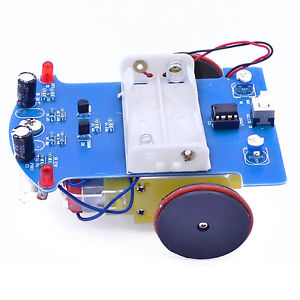 *** STOP PRESS …. Our workshop is full for this Saturday. We may run another soon. Get in touch with us on the "contact" link above if you are interested in taking part in our next one ***
We're holding an electronic "Build-It" workshop in TOG on Saturday 14th May at 14:00. Many visitors to TOG tell us that they would like to get started with electronics, soldering or assembly, but they are unsure how to do so. This workshop will help. The workshop will run for approximately 3 hours. You will get to build (and keep) an electronic kit. The kit that we have chosen is a line-follower robot car. It will follow a black line or any line where there is reasonable contrast. You can see a video of the kit in action here.
The kit comes as a complete set of mechanical and electronic parts including a bare circuit board. You get to do all the electronic assembly and soldering as well as the mechanical assembly. If you've never built an electronics kit or soldered before, then this workshop is ideal for you. We'll show you everything that you need to know. No previous experience at electronics, soldering or kit assembly is needed. We'll explain the circuit and how it works too. All tools and equipment are provided. The workshop will take about 3 hours from 14:00 – 17:00.