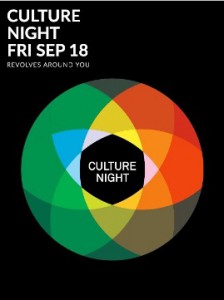 Last year was our first Culture Night opening, and was one of our busiest days of the year (possibly due in part to us being unknowingly featured in the Irish Times)
For 2015 we want to make it better again!
All our groups – electronics, lockpicking, coding, crafting and craft-beering have flourished over the last 12 months, and new groups such as CAD and art have taken off.
We have made loads of projects and aquired great new equipment that we are eager to show off.
So please join us! For 5 mins or 5 hours 🙂
All welcome no matter what the weather, we will have all kinds of crazy technology and projects to show off, with tours, demos and tasters throughout the night.
And remember: we have the synchronous hackathon and pizza night the next day!
Stop over Saturday for a scrumptious open social 🙂