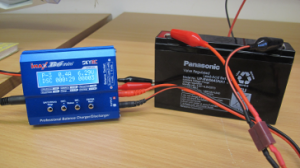 Got an IMAX B6 mini charger to play with. Pics here. This charger will charge and discharge lots of different battery chemistries. We recently acquired some 6-volt lead acid sealed lead acid batteries….believed to be from a UPS.
Two of them powered our buzzer game during the recent Dublin Maker. We're using the discharge function to test their capacity. It will be interesting to see what capacity they have left.
Drop in if you'd like to try the charger or some other electronics.