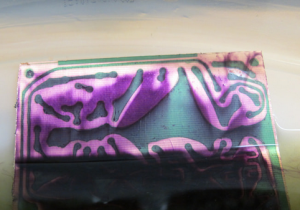 ETI Electronics, February 1978, IB Metal detector Mk2. This is the first in a series of 'vintage' electronics projects that we hope to build at TOG. We have the original magazine, so why not get building. There are some amazing projects in the electronics magazines from the 70's and 80's.
Update…. The build is in progress. Pics here.
We hope to be doing the PCB assembly for this project on 6th July, as this date is the 6th anniversary of TOG's first electronics night. In the run up to 6th July, we'll be preparing and gathering all the parts. As well as everything we need to do the electronics build, we have our workshop to do all the mechanical assembly and search head too.
We're talking pure analog electronics here….. there won't be an Arduino or line of code in sight 🙂 Although this project was first published in 1978, all of the components are still readily available. Come in if you'd like to see the build. Visitors are welcome and there's no charge to attend. Even if you don't know much about these kind of projects, you can still learn a lot by keeping in touch with the build. Should be great fun.