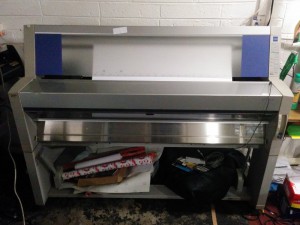 We, at tog, like to extend the usability of items for as long as possible. (Or at least that is our excuse for all the out-of-date tech laying about.) So back in May of last year when we were offered a very large format printer, it was hard to say no. (Stay with me sewists.)
Some members took it in, gave it some TLC, and we even found a roll of paper at ReCreate! But then we hit a problem. The last available drivers for it are Windows XP 32-bit. Which is not exactly commonplace anymore.
Then, a short while, and some internet searching, ago, we discovered that gutenprint-cups, the default printing facility on many linux distros actually supports this printer! It's not hard to install; plug in the USB cable, open a browser, go to http://localhost:631/ and press the right buttons. Done.
Long story short; the printer lives again! And for you sewists out there; ever buy a digital pattern and have to spend hours taping together A4 sheets? Well, if you can also get a large form pattern, you won't have to do that anymore! Just visit tog some Craft Night and we'll sort you out!