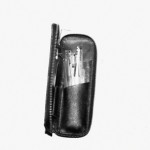 Every second tuesday the open-doors lock-picker's group meets to discuss and  play with everything lock related, and of course open as many locks as possible. Last tuesday was no different in this regard, but in one it was quite different: The Irish Times feature writer Patrick Freyne was in attendance to do a piece on the group.
His article Recreational lock-pickers open up about their craft was published online and off and gives a unique insight into the group and some of the good natured banter that is often encouraged among its attendees.
We've welcomed newbies to our group, regardless of background, gender or otherwise. So if your interest has been piqued or perhaps you're looking for a bit of a challenge, I'd highly recommend you coming to our next group meet-up. No experience or special tools required, but if you bring a lock, we'll give it a good seeing to!