We would like to invite you to Tog's first ever electronic sewing workshop! As a simple first project, we will be making nice looking flowers with a LED centre.
We'll be working with silver conductive thread (instead of wire), and creating a small circuit to power the LED (small light) from a coin-cell battery. The circuit will be hidden in the body of the felt flower, and the whole lot attached through a clip. You will get your choice of fabric and LED colours, so you can make something you could actually wear 🙂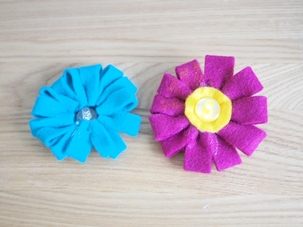 If you're interested in attending, ideally you already know how to hand sew (if not how come you missed our previous hand-sewing workshop!), but if not we'll do our best to show you enough to complete the project on the day.
When: Friday, October 21st, from 7pm to 9pm
Cost: €5 for non-members, free for members (all materials provided on the day)
Space being very limited, please sign up using the form below the break. and we're full-up now! If you'd like to contact us about similar events in the future please feel free to use the form below.
Error: Contact form not found.