Ever since one of our venerable members freed some young love, the Tog's lock pickers have been found to be recently making some waves in the national press by liberating the Ha' Penny Bridge of it's Love Locks.
"Anyone who lives in or visits the city regularly will notice how clumps of the locks – added by couples as a public display of their affection – seem to build-up gradually, before apparently disappearing overnight.
So who's taking them down? Well, in some instances it's Dublin City Council, who regard the practice as a nuisance which could damage the structure and paintwork. 'Helping' the council to tackle the problem are – believe it or not – a group of Dublin 'hackers' who like to pick padlocks as a hobby, and say it can be like a form of 'meditation' after a long day staring at a computer screen."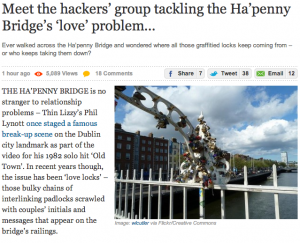 Meet the hackers' group tackling the Ha'penny Bridge's 'love' problem…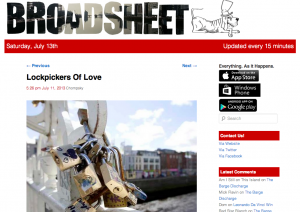 Meeting every second Tuesday, the Lock Picking Group is free and open to everyone. The next meeting is on Tuesday 16th of July from 7:30pm onwards.