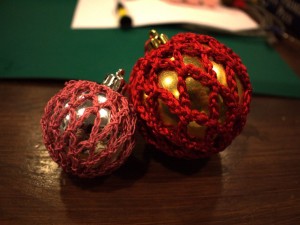 Now that it's December, we can officially discuss Christmas in public!  As always, there's plenty of crafting to do for the season.  On Saturday the 8th, Tríona will be running a crocheted baubles workshop and on Tuesday 11th will be the final craft night of the year (sadly, we won't be meeting on the 25th, nobody's available for some reason…).
The crochet workshop will run from 2pm to 5pm on Saturday 8th of December.  No prior crocheting experience is required, all levels will be welcome.  During the workshop you will learn very basic crochet skills to create a beautiful net to go around a bauble to hang on the tree.   The workshop will cost €2 for members and €7 for non-members.  Spaces are limited, so sign up below if you can make it.
Last Christmas, our final Craft Night of the year was a sugar fuelled craft fest, and this year will be no different.  Crafting will occur as usual on the night but we'll be making biscuits and hot chocolate to help the panicked-Christmas-is-here-and-Ive-no-presents-ready frantic making.  Feel free to bring some baked goodies of your own, it's a busy night and we have lots of sugar loving crafters!  The night will start earlier than normal at 6pm and will most likely run later than normal (later than 9pm anyway).    To keep an eye on the plans for this special Craft Night and for details on future craft nights, you can sign up to the mailing list here.