We're running our electronics bootcamp again. This event will take place
over 5 weeks on Tuesday evenings at TOG, from 19:00 to 21:30. First
session on Tuesday 9th August.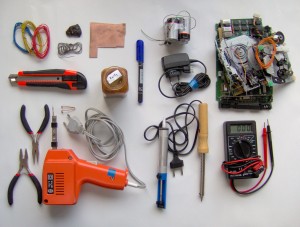 This is a practical / hands-on introduction to electronics. Its suitable for
beginners, as no previous knowledge is required. If you're curious about
electronics and don't know where to start, then this is for you. No
soldering required, as we do everything on prototyping breadboards.
We'll be building and testing circuits right from the first night. We'll
be covering DC, AC, analog and digital electronics.
Over the 5 weeks, you'll have a chance to play with multimeters,
oscilloscopes, signal generators and other electronic test equipment.
There'll be lots of circuits to build and test along the way.
Cost is €50 for non-members. If you're interested, you can sign up
below. There are 8 places available.
Booked Out