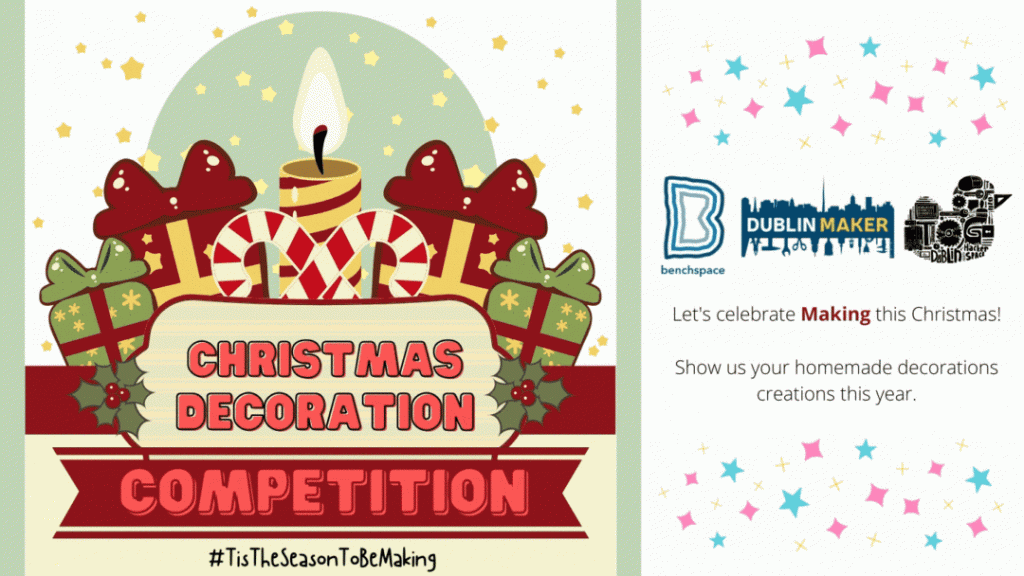 ? We want to celebrate making this Christmas so we bring you the
Christmas Making Decoration Competition. We want to see all your homemade decorations this year.
It's free, anyone of all ages can have fun making these decorations, hang them up, display them and be proud that you made it either yourself and even better, with your loved ones.
We are teaming up with Dublin Maker and Benchspace to bring you the season to be making.
Prizes
First Prize: €100 One4All eVoucher
x2 Runner-up Prizes: €50 One4All eVoucher
How to Enter
Share your photos, videos on social media so everyone gets to enjoy your wonderful creations with #TisTheSeasonToBeMaking
– Twitter: @DublinMaker @TOG_Dublin @BenchspaceCork
– Instagram: @DublinMaker @benchspacecork
For each decoration, submit via this form.
DEADLINE: Sunday, December 13, 2020 (Midnight, Irish Time)
Terms and Conditions
Competition entrants must reside in Ireland and Northern Ireland.
60% of the decoration must be home-made.
The Christmas Decoration can be placed on the tree or in a window.
Anyone who is under 18s years of age must have a parent or guardian who is 18 years or over to submit their Christmas Decoration entry on their behalf.
TOG Hackerspace, Benchspace Cork and Dublin Maker are allowed to use images/videos you submit with your Christmas Decoration entry.
Judges' decisions are final.
Judges
Our judging panel is made up of representatives from each of our partnering organisations. You can learn more about each of them below.
Meg "Without A Stitch"
Meg has always been interested in crafting and creating. After her BA in Theatre which focused on costume and set design, she moved to Ireland and became involved in the cosplay scene. Since then she has judged for Dublin Comic Con and other cosplay competitions, but has a broad range of interests that includes embroidery, quilting, sewing, photography and prop making.
David Scannell
David is a director of Benchspace Cork. He works full time in the Technology Industry and in his spare time is interested in all aspects of making including digital but primarily woodwork.
Vicky Twomey-Lee
Vicky is the Maker Advocate on the Dublin Maker team, helping them co-ordinate Maker events, talk about Maker culture and connecting the community.